Grease Lightning
Spot Treatment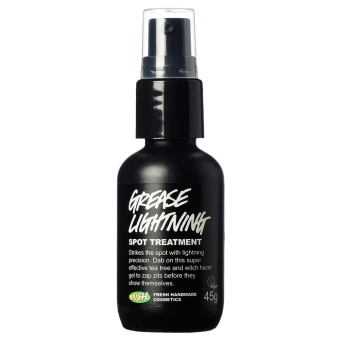 Grease Lightning is a powerful combination of ingredients that will nip any breakouts in the bud without upsetting the skin around them. We use an infusion of antibacterial and antiseptic rosemary, thyme and tea tree, as well as antioxidant-rich grape juice and witch hazel, which is astringent and anti-inflammatory and is said to soothe redness. This product is ideally applied when you feel a spot is about to erupt - prevention is better than cure. 
List of ingredients
Natural Ingredients
Safe Synthetics
*occurs naturally in essential oils.
We do not test our finished products on animals. We also only purchase from ingredient suppliers who do not test on animals. More.
Top Rated
5/5 stars
sasitorn18107_12375
About 3 months ago
เว็บนอกคนอวยเยอะมากๆ แต่ในไทยไม่ค่อยดัง พอลองใช้ สิวเม็ดเล็กๆลดลง สิวผดลดลง สิวใหม่ไม่ขึ้นทาได้ทั่วหน้า
กลิ่นวิทฮาเซลชัดมาก หอมสดชื่น ชอบมากๆ ใครเป็นสิวต้องลองจริงๆ
Latest
3 months ago
sasitorn18107_12375
About 3 months ago
เว็บนอกคนอวยเยอะมากๆ แต่ในไทยไม่ค่อยดัง พอลองใช้ สิวเม็ดเล็กๆลดลง สิวผดลดลง สิวใหม่ไม่ขึ้นทาได้ทั่วหน้า
กลิ่นวิทฮาเซลชัดมาก หอมสดชื่น ชอบมากๆ ใครเป็นสิวต้องลองจริงๆ
Most Recent
Most Recent
Most Helpful
Top Rated